Himachali Rasoi is located in the middle Bazar, Mall Road, and has a small cozy ambiance and sitting arrangement serving the local & traditional Himachali cuisines with excellent taste.
If you are a tourist or a solo traveler and have never tried Himachali food, should definitely give this place a try if, you are a hardcore foodie and interested in hopping out the local cuisines.
The only problem I saw, was the place is very small which caused difficulty in sitting for a long time. But rather than that the food is a must-try.
The thing that attracted me the most towards this restaurant was the traditional seating arrangement which was to sit on the floor in a relaxed way as it was followed several years back.
Different Thalis at Himachali Rasoi
Kangri Dham Thali ( Served on Monday, Tuesday, Saturday, Sunday) – Full (Unlimited)/ Half – Rs 219/171. Thali includes: Rice, Four Curries (Yogurt based chickpeas, sweet and sour Black gram, split Bengal gram with Fennel, Smoked Spiced Black Lentil, Boondi & Dry Fruit Sweet)
Mandyali Dham Thali ( Served on Wednesday, Thursday, Friday) – Full (Unlimited)/ Half – Rs 219/171). Thali includes: Rice, Five curries( Yogurt based beans, Lentils Fritters in Spinach gravy, Sweet & sour Pumpkin, Yogurt based kadhi, Black lentil, Pumpkin, and Dry Fruit Sweet)
Popular Dishes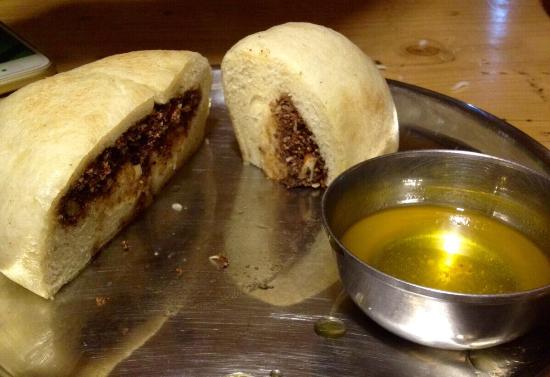 Siddu
Sweet & Savoury (Khus Khus)
Babroo(Fried Wheat Bread)
Patande(Wheat Pancakes)
Address & Contact Details of Himachali Rasoi
Address: 54, Mall Rd, Middle Bazar, The Mall, Shimla, Himachal Pradesh 171001
Mob: 0177 265 2386
Timing of Himachali Rasoi
| | |
| --- | --- |
| Tuesday | 12–8:30pm |
| Wednesday | 12–9:30pm |
| Thursday | 12–9:30pm |
| Friday | 12–9:30pm |
| Saturday | 12–9:30pm |
| Sunday | 12–8:30pm |
| Monday | 12–8:30pm |
Season – Open Year Round
Price – 500 (For 2)
Meal Server – Breakfast, Lunch, Dinner
Credit Card Accepted – Yes
Alcohol Served – No
Outdoor Seating – No